Many centuries ago, the Giants conceived the greatest experiment in the history of the world - to create beings more perfect than Kamael and devote them to serving the gods in order to atone for their pride. But they were faced with a problem - to
pursue
one's
agenda
a huge number of souls of the strongest of the Elmoraden monsters required. For a long time, the Giants could not find those who would cope with this task. And then there were fearless wars, capable of defying all dangers. For the negotiations with them was sent a Messenger of Giants - Rophie...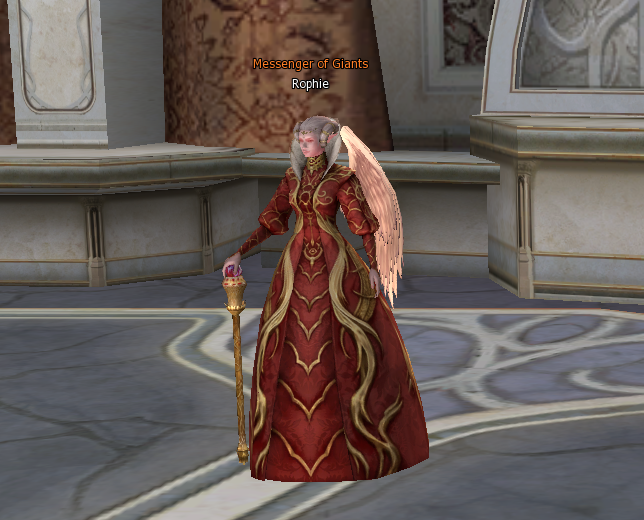 ​
Since May 23
, the Messenger of Giants
Rophie
is waiting for you on the 5th floor of the Ivory Tower. You can get there either through the GK of the tower itself, or through a direct teleport from Giran, from the NPC
Magic Sphere
.
Rophie will offer you to hunt raid bosses level 40-80, and the epic bosses - Orfen and Core. For killing each of them you will receive souls that can be exchanged for useful items, equipment, or that could be spent on improving epic jewelry.
- Dark Soul Fragment
- Core's Soul Fragment
- Orfen's Soul Fragment
EAC -
х1 Dark Soul Fragment
EWC -
x2 Dark Soul Fragment
EAB -
x2 Dark Soul Fragment
EWB -
x4 Dark Soul Fragment
EAA -
x2 Dark Soul Fragment
EWA -
x6 Dark Soul Fragment
EAS -
x3 Dark Soul Fragment
EWS -
x14 Dark Soul Fragment
BEAC -
x2 Dark Soul Fragment
BEWC -
x5 Dark Soul Fragment
BEAB -
x4 Dark Soul Fragment
BEWB -
x10 Dark Soul Fragment
BEAA -
x6 Dark Soul Fragment
BEWA -
x20 Dark Soul Fragment
BEAS -
x20 Dark Soul Fragment
BEWS -
x100 Dark Soul Fragment
Giant Codex -
x1 Dark Soul Fragment
Giant Codex - Mastery -
x16 Dark Soul Fragment
Dynastic Essence I -
x10 Dark Soul Fragment
Dynastic Essence II -
x50 Dark Soul Fragment
Transformation Box -
x20 Dark Soul Fragment
SA 12 all color -
x50 Dark Soul Fragment
Mardil's Fan
-
x150 Dark Soul Fragment
Blades of Delusion
-
x200 Dark Soul Fragment
Blood Brother
-
x200 Dark Soul Fragment
Butcher Blades
-
x250 Dark Soul Fragment
Claw of Destruction
-
x350 Dark Soul Fragment
Hellblade
-
x400 Dark Soul Fragment

Transformation Box:
Transformation Scroll: Veil Master (Event) - 26%
Transformation Scroll: Demon Prince (Event) - 23%
Transformation Scroll: Ranku (Event) - 23%
Transformation Scroll: Zaken (Event) - 23%
Transformation Scroll: Anakim (Event) - 5%
To get
Improved Ring of Core
you need to have ordinary
Ring of Core
and
25 Fragment of Core's Soul
Improved Ring of Core +10
(A grade, M.Def 72, MP +21, Resistance to Poison +20%, Poison attack rate +20%, and increase Accuracy. When eqiupped with two identical rings, the effect of only one ring will be applied)
To get
Blessed Ring of Core
you need to have
Improved Ring of Core
and
50 Fragment of Core's Soul
Blessed Ring of Core
(A grade, M.Def 72, MP +21, Resistance to Poison +20%, Poison attack rate +20%, and increase Accuracy. STR +1, CON +1. When eqiupped with two identical rings, the effect of only one ring will be applied. Allows you to use the skill Blessed Scroll of Escape. Re-use time is 60 seconds)
To get
Improved Earring of Orfen
you need to have ordinary
Earring of Orfen
and
25 Fragment of Orfen's Soul
Improved Earring of Orfen +10
(A grade, M.Def 95, MP +31, Resistance to Bleed +20%, chance of Bleed attack +20%, and increase healing effects. When eqiupped with two identical earrings, the effect of only one earring will be applied)
To get
Blessed Earring of Orfen
you need to have
Improved Earring of Orfen
and
50 Fragment of Orfen's Soul
Blessed Earring of Orfen
(A grade, M.Def 95, MP +31, Resistance to Bleed +20%, chance of Bleed attack +20%, and increase healing effects. INT +1, MEN +1. When eqiupped with two identical earrings, the effect of only one earring will be applied. Allows you to use the skill Blessed Ressurrection. Re-use time is 60 seconds)
Queen Ant 5-15
Wizard of Storm Teruk 3-5
Icarus Sample 1 3-5
Leto Chief Talkin 3-5
Shaman King Selu 3-5
Water Couatle Ateka 3-5
Fafurion's Page Sika 3-5
Road Scavenger Leader 3-5
Nakondas 3-5
Retreat Spider Cletu 3-5
Crazy Mechanic Golem 4-8
Earth Protector Panathen 3-5
Timac Orc Chief Ranger 3-5
Rooting Tree Repiro 3-5
Dread Avenger Kraven 3-5
Flamestone Golem 3-5
Thief Kelbar 3-5
Beacon of Blue Sky 3-5
Shacram 4-8
Tiger King Karuta 3-5
Iron Giant Totem 3-5
Archon Suscepter 3-5
Timac Orc Gosmos 4-8
Evil Spirit Cyrion 3-5
Fafurion's Henchman Istary 3-5
Barion 3-5
King Tarlk 4-8
Orfen't Handmaiden 3-5
Ketra Commander Atis 3-5
Karte 3-5
Mirror of Oblivion 3-5
Core 3-5
Orfen 3-5
Ghost of Peasant Leader 3-5
Messenger of Fairy Queen Berun 3-5
Carnage Lord Gato 3-5
Cursed Clara 3-5
Carnamakos 3-5
Lilith's Witch Marilion 3-5
Zaken's Chief Mate Tillion 3-5
Verfa 4-8
Deadman Ereve 3-5
Captain of Red Flag Shaka 3-5
Grave Robber Kim 3-5
Fafurion's Envoy Pingolpin 3-5
Atraiban 3-5
Magus Kenishee 3-5
Paniel the Unicorn 3-5
Furious Thieles 3-5
Enchanted Forest Watcher Ruell 3-5
Sorcerer Isirr 3-5
Harit Hero Tamash 3-5
Zaken's Butcher Krantz 6-14
Pagan Watcher Cerberon 4-8
Bandit Leader Barda 3-5
Ghost Knight Kabed 3-5
Eva's Spirit Niniel 3-5
Refugee Aplicant Leo 3-5
Harit Guardian Garangky 3-5
Timak Seer Ragoth 3-5
Eva's Guardian Millenu 3-5
Soulless Wild Boar 3-5
Demon Kuri 3-5
Abyss Brukunt 3-5
The 3rd Underwater Guardian 3-5
Ghost of the Well Lidia 3-5
Guardian of the Statue of Giant Karum 3-5
Taik High Prefect Arak 3-5
Fairy Queen Timiniel 4-8
Roaring Lord Castor 4-8
Rahha 4-8
Fierce Tiger King Angel 6-10
Gargoyle Lord Tiphon 6-10
Emmity Ghost Ramdal 4-8
Shilen's Priest Hisilrome 4-8
Demon's Agent Falston 4-8
Kernon's Faithful Servant Kelone 4-8
Spirit of Andras, the Bertrayer 6-10
Shilen's Messenger Cabrio 4-8
Korim 4-8
Roaring Skylancer 6-10
Fafurion's Herald Lokness 6-10
Palibati Queen Themis 4-8
Beast Lord Behemoth 4-8
Anakim's Nemesis Zakaron 6-10
Flame of Splendor Barakiel 4-8
Meanas Anor 4-8
Eilhalder von Hellmann 8-12
Immortal Savior Mardil 4-8
Water Dragon Seer Sheshark 4-8
Vanor Chief Kandra 4-8
Doom Blade Tanatos 6-10
Death Lord Hallate 6-10
Plague Golem 6-10
Krokian Padisha Sobekk 6-10
Icicle Emperor Bumbalump 6-10
Kernon 6-10
Storm Winged Naga 6-10
Last Lesser GIant Olkuth 6-10
Menacing Palatanos 6-10
Bloody Empress Decarbia 6-10
Death Lord Ipos 6-10
Death Lord Shax 6-10
Ocean Flame Ashakiel 8-12
Gigantic Golem 8-12
Flamestone Giant 8-12
Fire of Wrath Shuriel 8-12
Last Lesser Giant Glaki 8-12
Daimon the White-Eyed 8-12
Hestia, Guardian Deity of the Hot Springs 8-12
Longhorn Golkonda 8-12
Cherub Galaxia 8-12
Ketra's Hero Hekaton 8-12
Ketra's Commander Tayr 8-12
Ketra's Chief Brakki 8-12
Soul of Fire Nastron 8-12
Varka's Hero Shadith 8-12
Varka's Commander Mos 8-12
Varka's Chief Horus 8-12
Soul of Water Ashutar 8-12
Ember 10-20
Anais 15-25
Uruka 10-20
Sailren 40-60
Gordon 15-25
Typhoon 15-25
Giant Marpanak 10-20
Gorgolos 10-20
Tully 10-20
Gwindorr 10-20
Last Titan Utenus 10-20
Hekaton Prime 10-20
Darion 20-40
Water Spirit Lian 10-20

Emerald Horn 1-3
Dust Rider 1-3
Bleeding Fly 1-3
Blackdagger Wing 1-3
Shadow Summoner 1-3
Spike Slasher 1-3
Muscle Bomber 1-3