Joined

Mar 15, 2016
Messages

2,692
Likes

771
Premium Shop
E-Store
[10 E-coin = 1 euro]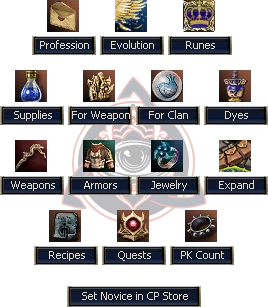 1st occupation price is 3 E-Coins or 100.000 adena

2nd occupation

price is 10 E-Coins or 2.000.000 adena

3rd occupation

price is 70 E-Coins or 350 Halisha's Marks + 15.000.000 adena

Black Halisha's Mark can be received at the Shrine of Loyalty from Grave Scarab, Scavenger Scarab, Grave Ant, Scavenger Ant, Shrine Knight, Shrine Guard.
You do not need to take the 3rd class transferring quest for obtaining them.
After purchasing 1st and 2nd occupation you will receive Coupons for Shadow weapons (one D and C grade)
After completing 3rd class transfer quest (76+ lvl) you will receive 4 Giant Codex, 25kk Adena. You will NOT receive the reward in case of purchasing it.

Sub Class

For sub-class obtaining you will need - 75 level, 40.000.000 Adena and 4 scepters: Cabrio, Hallate, Kernon, Golkonda
You do not need to take the quest to obtain scepters
To receive the scepter you will need to talk with a chest after a Raid Boss's death
Only characters level 75 and above can receive the scepter from the chest
Also you can Buy Scepters in E-Store:
So, you can buy Subclass for 40.000.000 Adena + 150 E-Coins or buy any Scepters, that you can't take by your own (wars, notime, ets)
For 250 E-Coins, I think (like on OBT) after 1 week from the start​
From begin of the server:

We have 2 types of the Runes:

Premium Rune
EXP/SP+ 30%

Chance of Drop, Adena, Seal Stones +30%

Chance of Spoil + 30%

Bonus Rune
EXP/SP+ 15%

Chance of Drop, Adena, Seal Stones +15%

Chance of Spoil + 15%
Pricepool:
Premium Rune (+30%) - 12 hour - 15 E-Coins

Premium Rune (+30%) - 3 days - 35 E-Coins

Premium Rune (+30%) - 7 days - 65 E-Coins

Premium Rune (+30%) - Forever - 150 E-Coins

Bonus Rune (+15%) - 3 hour - 10 E-Coins

Bonus Rune (+15%) - 6 hours - 15 E-Coins

Bonus Rune (+15%) - 12 hours - 25 E-Coins
Bonus of Runes can be added, but don't multiplied
Runes are working for character that purchased it(not for the whole account)
Premium & Bonus Runes [rus] full guide of working
​
Last edited: